Ahoy!
I almost didn't get dressed today. Almost. But I did (see photos).
It's been a busy time. I've been working on research all day since I'm behind in hours. Focusing is hard when there's nothing to do. You know when you have so much to do that you want to get something done? Well, I don't really have anything to do. The research is all I have, and if the research is done... then what? I'm procrastinating for the purpose of sanity.
Onto clothing. You'll notice I like jeans and looking non-fussy. This proves to be difficult come the adult world. Actually, that's perhaps the reason why I've postponed adulthood and decided to do more school. Sadly, my masters will be done this time next year, which means I need to start integrating more work-friendly clothes into my wardrobe. On American Apparel they have this nice
blue oxford button down
I'm ogling. I figure I could dress it up for work and dress it down with black skinnies for a night out. Ive also got my eyes on this Steven Alan
reverse seam shirt
. Tres cute. However, shirts are easy for me. It's the damn pants. I have yet to find a pair of decent fitting, plain pants (will take suggestions). My internships are carried out in a hospital setting, meaning no jeans and I have to look semi-professional/like I know what I'm doing. People trust their children's minds with me. Keep in mind, therapists aren't exactly the most fashion-forward group of professionals. I once wore a pair of black skinny jeans, a steve alan grey shirt and a pair of black pumps to work. When I got to the work, I felt very overdressed and very--- fashiony. Fashion as a deficit.
Cardigan: Pringle of Scotland
White Tank: Aritzia
Belt: Abercrombie (note: buy more belts)
Shorts: Gap
Shoes: Jeffery Campbell
Shopping Bag: Virgo bio bag
Dog: Baxter
Last note, and completely random one, this is how I organize my thoughts and wants. I rip out things from magazines for ideas or for future reference (the boyfriend likes to consult these papers when important dates are creeping up on him) and I shove them into this little notebook. Somewhere down the line these ripped papers are cut neatly and pasted into the book with little notes beside them.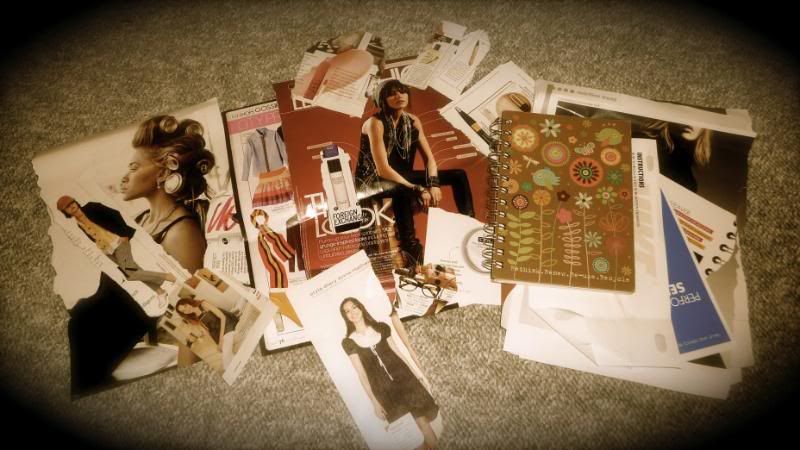 That all being said... stay cool.
x