I've been buying many things: a oatmeal coloured knit cardigan, two navy cardigans, one beige cardigan, two pairs of london sole flats, a pair of cute booties, work pants (groan), and tops.
I must tell you about a certain shirt that is very much underestimated.
Behold, the American Apparel unisex oxford button up (or down).
Now, I bought this in an XS so it would fit looser (it's unisex), and it fits perfectly! The material is great and it's versatile. It was a happy purchase.
Now, the gap cardigan....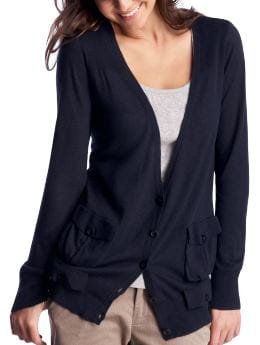 Oh-so-soft and loving the cargo pockets on this little cardigan. Perfect length too. I purchased it in navy and may have to buy the other colours-- you can never have too many cardigans in my opinion.
I have a wish list too. Have you
seen
the
Steven Alan
collection? I've been oogling this site for the past 4 weeks. I would love to (read: I need to) have
this top
in my life.
As you can tell, I'm in full fall mode, despite the weather being ungodly nice.
This entry is really incoherent and choppy.
Now, at the moment I'm kind of strapped for time, but I'm attempting to keep this blog going.
I also want to see this film.
LL&P,